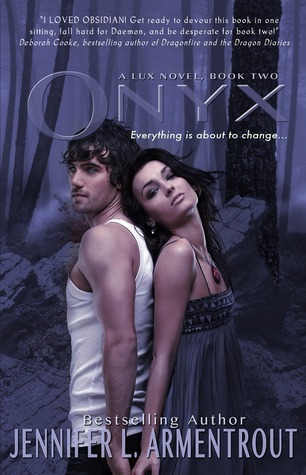 So it has been a realllyy long time since I have done a Throwback
Thursday, but I'm trying to get back into the habit of doing it.
Book:
Onyx (Lux 2)
Author:
Jennifer L. Armentrout
Format:
Ebook
Page Count:
366
Publisher:
Entangled Teen
My Rating:
★★★★★
Synopsis:
Being connected to Daemon Black sucks…
Thanks to his alien mojo, Daemon's determined to prove what he feels for me is more than a product of our bizarro connection. So I've sworn him off, even though he's running more hot than cold these days. But we've got bigger problems.
Something worse than the Arum has come to town…
The Department of Defense are here. If they ever find out what Daemon can do and that we're linked, I'm a goner. So is he. And there's this new boy in school who's got a secret of his own. He knows what's happened to me and he can help, but to do so, I have to lie to Daemon and stay away from him. Like that's possible. Against all common sense, I'm falling for Daemon. Hard.
But then everything changes…
I've seen someone who shouldn't be alive. And I have to tell Daemon, even though I know he's never going to stop searching until he gets the truth. What happened to his brother? Who betrayed him? And what does the DOD want from them—from me?
No one is who they seem. And not everyone will survive the lies…
So this time last year I finished the second book in The Lux Series, Onyx. If you guys are unaware, I absolutely love The Lux Series. I love the characters, I love the sarcasm, I love the plot, I love everything about it. After I read this book in the series, I went out and bought the bind up collector's editions so I could read all of the books up to Opposition, which wasn't out at the time. Not only did I like the books, but it started my love for Jennifer L. Armentrout. I really loved the writing and humor in this series, so because of that I read her Covenant series, which I loved as well.
On to this book specifically, I can remember this book giving me several mini heart attacks. Like the Thanksgiving scene... ajdifatantatiishkut. The sexual tension between Katy and Daemon did things to my heart. My love for Daemon grew even more because he is this hot, cocky, sarcastic alien who is so protective and loving towards Katy that it makes my heart melt. I really like Katy because I feel like I can identify with her, but at the same time there were moments when she annoyed the hell out of me with her stupidity.
Blake... my hatred towards that little shit began the moment he entered the book. I never liked him and I was satisfied with the fate he had later in the series. I do appreciate the fact that he brought out the jealousy of Daemon, but besides that he was a nuisance.