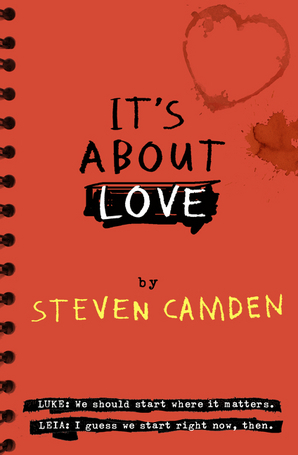 Book:
It's About Love
Author:
Steven Camden
Format:
ARC
Page Count:
448 (Final Paperback)
Publisher:
HarperCollins Children's Books
My Rating:
★★★1/2
Synopsis:
Real life is messier than the movies. A bold, thought-provoking novel from the exceptionally talented, Steven Camden.
He's Luke. She's Leia.
Just like in Star Wars. Just like they're made for each other. Same film studies course, different backgrounds, different ends of town.
Only this isn't a film. This is real life. This is where monsters from the past come back to take revenge. This is where you are sometimes the monster.
But real life? Sometimes, only sometimes, it turns out just like in the movies…
… maybe.
Coming into this book, I didn't really know what to expect because the synopsis was rather vague. (Also not in the synopsis, this takes place in England.) Despite this, I was delightfully surprised. While this book is a contemporary, it doesn't center entirely around the romance aspect, which I liked sometimes, while other times it was rather confusing. One thing I really enjoyed was the writing style and narration. I don't know what it was, but the style really spoke to me and I loved the narration. It was real, honest, simple yet elegant. The writing just really drew me in. I didn't want to put the book down, and I didn't. I read it in one long sitting. It was well worth it though.
The main thing about the book that surprised me that I really appreciated was the diversity. The two main love interests, Luke and Leia, are both from mixed ethnicity. That alone made me happy. What made me ecstatic was their heritage wasn't simply talked about once and pushed to the book. The book highlights the struggles of being not only a person of color, but a mixed person. As someone who is mixed, this really spoke to me and I was rather impressed with how well the author accurately portrayed their struggles,
What fell through for me was the plot. Sometimes it felt like there was no plot. Sometimes it felt like the plot was geared towards the relationship between Luke and Leia (which I really shipped them in the beginning but throughout the novel I kind of started disliking Leia). Sometimes it felt like the plot was supposed to be centered around the issues in Luke's life. Because of this, the story sometimes felt disconnected and left me confused. Also the flashbacks weren't that well done to me and left me with more questions than answers.
Overall, I still really enjoyed this book, I just feel like it could be cleaned up some more and connected.
FAVORITE QUOTES:
"Walls work both way. What keeps you safe, keeps you separate."
"Fortune cookies are only good if they make sense. Otherwise its just a greasy piece of paper inside a shit biscuit."
*Thank you Edelweiss for the review copy*