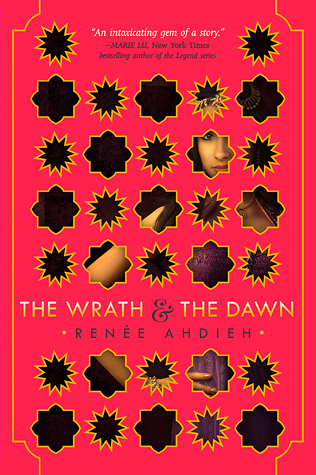 Book:
The Wrath & the Dawn
Author:
Renee Ahdieh
Format:
Ebook
Page Count:
416
Publisher:
G.P. Putnam's Sons Books for Young Readers
My Rating:
★★
Synopsis:
A sumptuous and epically told love story inspired by A Thousand and One Nights
Every dawn brings horror to a different family in a land ruled by a killer. Khalid, the eighteen-year-old Caliph of Khorasan, takes a new bride each night only to have her executed at sunrise. So it is a suspicious surprise when sixteen-year-old Shahrzad volunteers to marry Khalid. But she does so with a clever plan to stay alive and exact revenge on the Caliph for the murder of her best friend and countless other girls. Shazi's wit and will, indeed, get her through to the dawn that no others have seen, but with a catch . . . she's falling in love with the very boy who killed her dearest friend.
She discovers that the murderous boy-king is not all that he seems and neither are the deaths of so many girls. Shazi is determined to uncover the reason for the murders and to break the cycle once and for all.
There is a deep sadness in my heart after reading this book. I was so pumped for this book. The hype around this book was enormous and it was one of my most anticipated reads for this year. I love fairy tell retellings and was especially interested in this one because I love A Thousand and One Nights. I had only heard great reviews for this book, so I figured I would love it. Oh how wrong I was.
I did not like this book. Like at all. In any aspect. The plot was not captivating to me. I had to force myself to read it which is something I never want to do. A lot of the time I found myself bored or uninterested in what was going on. I read the first 60% in depth but after a while I was just so done that I skimmed the last half of the book. There were several side plots going on during the book that I just skipped over because I could care less what was happening with them. When I reached the end of the book, I didn't even care what happened.
I did not like the characters, except Ralal. I thought Shahrzad was dumb, naive, and annoying. Nothing about Khalid made me soon or care about him. I did not give a single care about their ship.
I will definitely not be continuing this series which is such a bummer. I'm also really glad I only borrowed this from my library and didn't buy the hardcover from Amazon like I originally was going to. That would have been a huge waste of my money.