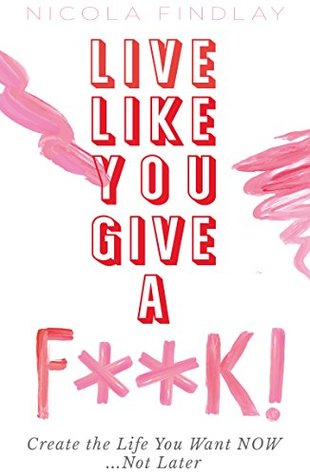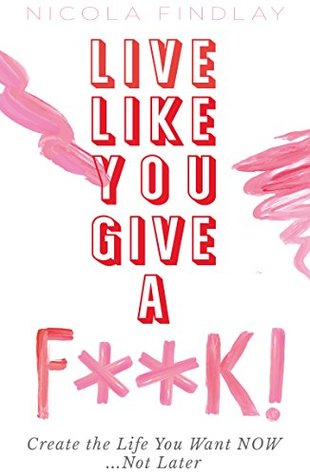 Book:
Live Like You Give a Fuck
Author:
Nicola Findlay
Release Date:
November 7, 2017
Publisher:
Clink Street Publishing
My Rating:
★★★ 1/2
Synopsis:
Live Like You Give A F**K! The No Nonsense Philosophy for Smart Girls who Want to Smash It!
Boss a bitch? Diet a hot mess? Broke after payday? Ghosted on tinder?
If life feels like a constant hangover why not take five f**king minutes for yourself to decide what you really want. Slam on the brakes, kick off your heels and unplug from the social media circus.
Stop Surviving - Start Thriving
Live Like You Give A F**K will show you how to create the future you want, not the one that's been shoved down your throat. It will shake and wake you from the hypnosis of modern living. The triple shot of empowerment, confidence and motivation will unleash the badass in you.
Nicola Findlay is the straight-talking, bold, coaching diva who isn't afraid to tell it like it is. If you ask her advice about your lame partner she'll give you a bitch slap, tell you to raise your standards and get rid of that loser. She's your best friend, your enemy, your punchbag and your cheerleader. Some people call her a diva, some people call her a badass bitch but whichever you decide you will get results. WARNING: If you're afraid of a few swear words on a page put this book down and go cry to your Mama. I'm not here to offend anyone. I'm here to tell you how to rock your world, and because I'm so passionate about it I'll be shouting and swearing from the rooftops.
My Review
Overall I thought the was a very enjoyable and insightful quick read. A lot of this stuff is common sense and stuff I'm sure most people have thought before or heard before, but it's always very motivational having someone lay down the facts to you and kick you into gear. I definitely recommend this book to people who are feeling down with where they are in life, need a pick me up, maybe just stuck, or just need some motivation in their life. Nicola writes in a very lighthearted by motivational way and she almost sounds like a best friend of mom giving you advice and not some life guru.
Author Post
Twas the night before Christmas. Delicate flakes of snow started settling on the ice cold ground, classic Christmas anthems bellowed in the background and the smell of warm mulled wine filled the air. You gaze at this delightful scene and feel the strongest desire to…. rip someone's fucking face off.
Merry Christmas. Bah humbug. What has been Merry so far? You're broke beyond belief, not because you splashed out on a once in a lifetime holiday or that designer dress that makes you feel hotter than the sun. No, it's because you spent your hard earned cash on crappy presents for ungrateful people. They'll pull there 'oh you shouldn't have face' and then do the 'dump or disappear' act with your gift quicker than you can sing; 'All I want for Christmas is you'.
If it wasn't bad enough you have used up you're precious annual leave to spend time with the people you'd most like to avoid. You could be having some much needed rest and relaxation or enjoying a Christmas catch up with friends but oh no, here you are holed up at Auntie Barbara's with 10 others and there's no visible way out. Hey, shouldn't Christmas be a time of joy?!
Yes there is a lot to be miserable about but on the flip side there's so much to be grateful for. Follow these steps to see how you can ditch the stress and instead cope with Christmas.
Gratitude
:
Instead of focusing on what you hate about this season, start focusing on what you have in life that you're grateful for. Your family may annoy you at times, but at least you have one. You might not receive your dream gift but someone thought highly enough of you to buy you one. You might have to slum it on the sofa bed for a couple of nights but at least you have somewhere warm and safe to rest your head. Once you start looking at your Christmas situation through a lens of gratitude you'll stop crying and start celebrating.
The Art of Saying No:
This Christmas season is when you need to have the power of saying no down to a fine art otherwise the pressure of social expectation and not wanting to offend people will take you to breaking point. To avoid a crisis, deploy delay tactics. So if someone asks you if you're coming to that Christmas party tell them you'll have to let them know later as you need to check with your partner, diary or Santa first. Then listen to your gut, you know it will give you the right answer. Once you've decided that you don't actually want to go to that drunken party serving up warm, cheap wine but rather snuggle up on your sofa and watch a marathon session of Game of Thrones, it's time to say so. When declining an invitation avoid the habit of making up stupid excuses as to why you can't go. You're an adult remember, and you don't have to justify your reasons to anyone. Decline in a mature and refined way with a simple: 'Thanks for the invite but I can't make it', and start loading up
that box set...bliss.
Family Feuds:
No one can push our buttons and make us go from zero to crazy like family can. And there's no better environment for a family bust up than at Christmas. Lots of people gather who wouldn't normally spend so much time together. Here you'll find three generations squeezed into a family home designed for four. House rules are one thing but everyone usually has their own expectations about; what time you should eat, when you should open presents, (I'm a before breakfast kinda gal), what family movie you should watch, and the list goes on. It's little wonder world war 3 hasn't broken out before lunch is served. When it comes to testing times with your family over Christmas try and be the bigger person. Ask yourself; 'Does it actually matter?' and if it doesn't drop it and leave the ego behind. Don't ruin your day with drama. Think about the other person's reasoning of their argument. Do they want to do things differently because their younger or older, got kids or haven't got kids, or maybe they've got to travel. If you're fluid and flexible about how you roll over Christmas you'll enjoy yourself so much more.
Put Perfection into Perspective:
For a truly stress free Christmas we need to release our minds from the stronghold of perfection. Whether it's where we spend Christmas day, the food we eat, the presents we gift, the way the table is laid for dinner or the decorations in the house, we can always find something to panic about. If the turkey is a little on the dry side, it won't kill anyone. If you had to spend a little less on presents this year because you're broke, your family won't hate you.
There are plenty of things you can be stressed out about in life but Christmas shouldn't be one of them. Relax, appreciate who and what you have around you and be blessed that you're here to celebrate it for another year. I raise a glass to you and wish you a very merry Christmas.
About the Author
Nicola Findlay, a former British Airways air stewardess, is a qualified neurolinguistic practitioner and
accredited international coach with over a decade of experience. She runs personal group
workshops, 1-2- 1 coaching and corporate training working with companies such as Specsavers and
Stella & Dot. Previously she managed the Brighton branch of Life Clubs where she ran weekly
personal development workshops with different themes each week before starting her own
company The Coaching Diva in 2015. In 2018 she is planning a series of live events in London and
New York including; Attracting Mr Right and Live Like You Give A F**K! Nicola lives with her 7 year old daughter and husband in Surrey, England.