I haven't done a Friday reads in months. Just like the Throwback Thursday meme I did yesterday, I hope to get back into the habit of doing this.
Currently I started and finished "No Kissing Allowed" by Melissa West today. It was an ARC I was sent for review from Entangled Embrace. I'm not going to say much until I put up the review but I really enjoyed this New Adult novel. It was fast paced and fun to read. I read it in like three hours.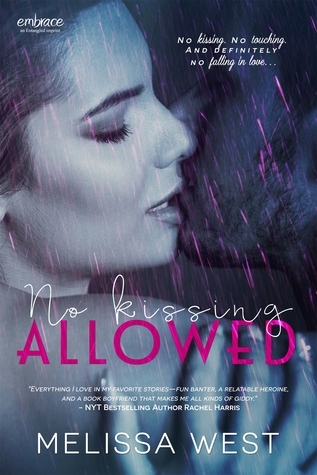 (Ignore the cover. It is not a good representation of this book)
Synopsis:
No kissing. No touching. And definitely no falling in love...
Armed with her besties, an embarrassing number of shots, and her list of 10 Wild Things To Do Before Adulthood, recent grad Cameron Lawson is partying it up before she starts her dream job at New York's biggest ad agency. Her last task? Hook up with a random guy. And while it's so not her style, the super-sexy guy sitting next to her is definitely game. No names. No details.
At least, that was the plan.
On her first day of work, Cameron discovers her hook-up is none other than Aidan Truitt—her new boss's boss. Talk about failing the "no fraternizing with coworkers" policy on an epic level. Especially when Aidan makes it clear their one night was only the beginning. Falling for him could cost her everything, but sometimes the only way to get what you want is by breaking a few rules...
For the rest of this weekend I plan starting my required reading for college orientation, "Whistling Vivaldi" by Claude Steele. It should be an interesting read. It is about stereotypes.
Synopsis:
Claude M. Steele, who has been called "one of the few great social psychologists," offers a vivid first-person account of the research that supports his groundbreaking conclusions on stereotypes and identity. He sheds new light on American social phenomena from racial and gender gaps in test scores to the belief in the superior athletic prowess of black men, and lays out a plan for mitigating these "stereotype threats" and reshaping American identities.
What are you guys reading this weekend?