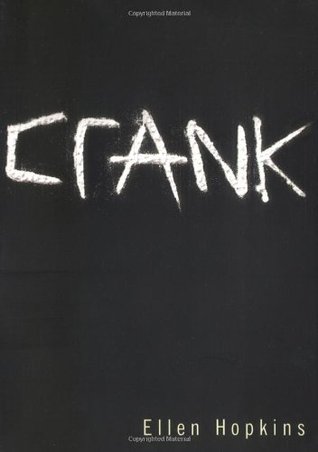 Book:
Crank
Author:
Ellen Hopkins
Format:
Ebook
Publisher:
Margaret K. McElderry Books
My Rating:
★
Synopsis:
In Crank, Ellen Hopkins chronicles the turbulent and often disturbing relationship between Kristina, a character based on her own daughter, and the "monster," the highly addictive drug crystal meth, or "crank." Kristina is introduced to the drug while visiting her largely absent and ne'er-do-well father. While under the influence of the monster, Kristina discovers her sexy alter-ego, Bree: "there is no perfect daughter, / no gifted high school junior, / no Kristina Georgia Snow. / There is only Bree." Bree will do all the things good girl Kristina won't, including attracting the attention of dangerous boys who can provide her with a steady flow of crank.
Let me make things very clear: I hate verse. Knowing that, I had a feeling I wasn't going to like any of Ellen Hopkins's book despite everyone loving it. That being said, I picked this up because I needed a book written in verse for #CRAMATHON and this seemed like a good option. NOPE.
I found myself not caring. I didn't care about the main character and her situation. Probably because I have zero empathy, but I just couldn't care. I felt like the entire situation was her own damn fault. I pushed through the book and nothing moved me. I found myself bored mainly until about 50% and I decided to skim the rest of the book. I guess maybe the situation just didn't speak to my coupled with my hatred for verse, but I just didn't like this book.