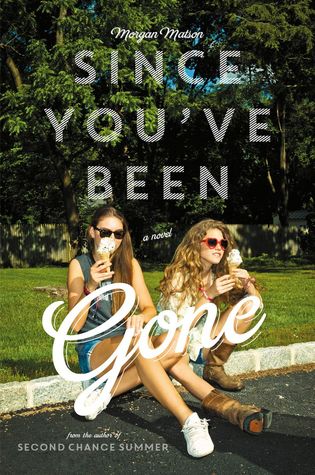 Book:
Since You've Been Gone
Author:
Morgan Matson
My Rating:
DNFed
Synopsis:
It was Sloane who yanked Emily out of her shell and made life 100% interesting. But right before what should have been the most epic summer, Sloane just…disappears. All she leaves behind is a to-do list.
On it, thirteen Sloane-inspired tasks that Emily would normally never try. But what if they could bring her best friend back?
Apple picking at night? Okay, easy enough.
Dance until dawn? Sure. Why not?
Kiss a stranger? Um...
Emily now has this unexpected summer, and the help of Frank Porter (totally unexpected), to check things off Sloane's list. Who knows what she'll find?
Go skinny-dipping? Wait...what?
This is another one of those books that everyone and their mother loves but I was really hesitant to pick up because I didn't think it was quite for me. Young adult contemporary has to be especially good to draw me in and not annoy the hell out of me. I have to love the relationship and the characters. That just did not happen with this book.
Nothing about this book made me want to keep reading it. I was not a fan of the main character. Despite our shared social anxiety, nothing about her really made me care about her, if that makes sense. She was...boring. And the main love interest, I didn't care for him either. Nothing made me want to ship them. While the whole idea of the list seemed interesting, it just fell flat for me.
I wish I could have liked it enough to continue reading it, but I just didn't want to push myself through it.