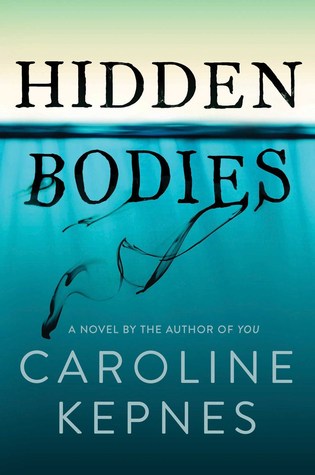 Book:
Hidden Bodies (You #2)
Author:
Caroline Kepnes
Page Count:
448
Format:
ARC
Publisher:
Atria
My Rating:
★★★ 1/2
Synopsis:
In the compulsively readable follow-up to her widely acclaimed debut novel, You, Caroline Kepnes weaves a tale that Booklist calls "the love child of Holden Caulfield and Patrick Bateman."
Hidden Bodies marks the return of a voice that Stephen King described as original and hypnotic, and through the divisive and charmingly sociopathic character of Joe Goldberg, Kepnes satirizes and dissects our culture, blending suspense with scathing wit.
Joe Goldberg is no stranger to hiding bodies. In the past ten years, this thirty-something has buried four of them, collateral damage in his quest for love. Now he's heading west to Los Angeles, the city of second chances, determined to put his past behind him.
In Hollywood, Joe blends in effortlessly with the other young upstarts. He eats guac, works in a bookstore, and flirts with a journalist neighbor. But while others seem fixated on their own reflections, Joe can't stop looking over his shoulder. The problem with hidden bodies is that they don't always stay that way. They re-emerge, like dark thoughts, multiplying and threatening to destroy what Joe wants most: truelove. And when he finds it in a darkened room in Soho House, he's more desperate than ever to keep his secrets buried. He doesn't want to hurt his new girlfriend—he wants to be with her forever. But if she ever finds out what he's done, he may not have a choice...
Storytime! Back in August before I started college, I picked up "You". It was a bit slow and when I actually got to college, I put it down and didn't pick it up until this month. When I picked it back up again, I was able to power through it and I loved it, despite it's incredibly fucked up nature that makes me question the author's sanity and personal life.
Anyway, when I was done with the book, I wanted to read the second book right away because I wanted to know what was going to happen since I felt like "You" honestly could have been a standalone. So, I requested "Hidden Bodies" on Netgalley and within five minutes I was approved which made me hella happy.
Now the actual book... I liked it, but not nearly as much as "You". Don't get me wrong. It was defintely fucked up and made me question humanity in general, but I felt like it was lacking in something. It didn't have the same vibes as the first book. The writing didn't feel the same and the plot definitely wasn't as interesting. In the first book, the entire plot was centered around Beck. With this book, I thought it was going to be centered around one thing, but then it ended up being entirely about the fucked up nature of Hollywood, which honestly, wasn't that interesting to me.
To top it off, Joe just didn't feel the same as he did in the first book. There was a shift in his personality and just the way he behaved. Granted, he was still incredibly twisted and needs a therapist, but just not to the same effect as the first book.
Overall, it was okay. It didn't blow me away like the first book did. There was still a lot of sickness to it and was certainly different than most books and captivated me in the way, but just not to the degree I wanted.
Thank you Netgalley for providing a copy for review.