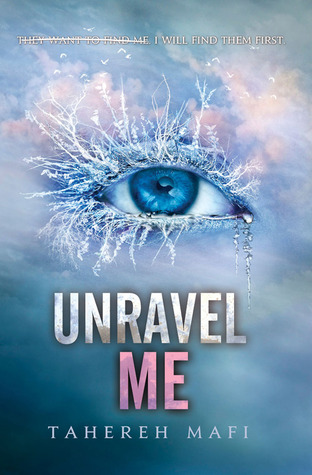 Series:
Shatter Me
Author:
Tahereh Mafi
Format:
Paperback
Page Count:
496
Publisher:
HarperCollins (December 31, 2013)
My Rating:
★★★★★
Synopsis:
tick
tick
tick
tick
tick
it's almost
time for war.
Juliette has escaped to Omega Point. It is a place for people like her—people with gifts—and it is also the headquarters of the rebel resistance.
She's finally free from The Reestablishment, free from their plan to use her as a weapon, and free to love Adam. But Juliette will never be free from her lethal touch.
Or from Warner, who wants Juliette more than she ever thought possible.
In this exhilarating sequel to Shatter Me, Juliette has to make life-changing decisions between what she wants and what she thinks is right. Decisions that might involve choosing between her heart—and Adam's life.
This book, this second book in the "Shatter Me" trilogy was just as good as the first one. Tahereh Mafi has a gorgeous writing style and the way she draws light on the flaws of society is amazing. The varied syntax just captures me and I couldn't stop reading. Juliette has such an interesting mind and her story is a fascinating tale. Right from the beginning the writing hooked me in. The writing was so poetic and kept building up into beautiful extended metaphors. I love how throughout the book, the writing never stopped amazing me or leaving me in pure awe.
The whole Adam situation... I don't know how I feel about that. Honestly I think the entire love triangle itself is a bit of thinker. I feel like Juliette's love for Adam was a bit to instalove, that is just isn't possible to be that in love with someone. I think she loves the idea of him, someone so familiar from her path and someone attainable (or rather he use to be) appealing. I also think Adam might not love her for all the right reasons. I understand that she is the girl he liked from the past, but is it possible to hold on to the infatuation for so long. Does he really love the new her? Or is it once again the idea of her?
Then there's Warner... the more I read about him, the more I like him yet at the same time hate him. He is such a complex character with deeply rooted psychological daddy issues. I'm not sure why he has such a strong desire to be with Juliette. And Juliette, I don't know about her feelings for Warner. I think he puzzles and intrigues her, she wants to fix him, and overall is just sexually attracted to him. I mean, I'm not going to lie, the physical appearance of Warner is almost enough for me to forget how twisted of a human being he is.
It was really interesting to learn more about Kenji. I originally thought he was present for just comedic relief, but it became very clear that he is a very important character, one who knows the time and place for being serious. At times, the serious part of Kenji kind of freaked me out, but then I would realize that it was necessary for him to behave the way he does because he helps life run smoothly at Omega Point.
The whole Anderson situation... god I hate that man. I understand why Warner is so messed up. (I also see why Warner doesn't go by his first name. I laughed so damn hard when I read what his name is.) The way that Anderson also ties in with Adam was mind-blowing. I was not expecting that, and honestly I want more backstory on that.
Juliette really grew as a character throughout this whole story. There were times when she was a weak, scared girl, but then she learned to get her shit together because she is not the only person that matters anymore. She grew from hating her abilities with all of her soul, to mildly accepting them and realizing they are necessary for the war. I'm really interested to see where things go with her and Warner because their new "bonding" and revelations could really affect not only their lives, but the war. Also, Warner has slightly developed as a person, but doesn't think he can change, and I think that is really going to push Juliette to try to fix him.
(Can I just say, that ending though... it messed with me. Hell, this whole book messed with my head.)
FAVORITE QUOTES:
- "Loneliness is a strong sort of thing. It creeps up on you, quiet and still, sits by your side in the dark, strokes your hair as you sleep." That quote continues the whole page, but damn it's beautiful.
- "It's okay to kill a man if someone else deems him unfit to live." Isn't that war? A bunch of guys determine who lives and die because they believe they are mighty enough to make that determination.
- "Just because I'm going to hell doesn't mean you'll ever deserve her." -Warner (BURRNNN!)
Overall this book lived up to my expectations, I would totally recommend this series, and I can't wait to read the last book.