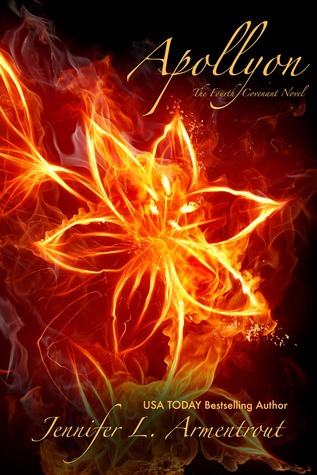 Series:
Covenant
Author:
Jennifer L. Armentrout
Format:
Paperback
Page Count:
343
Publisher:
Spencer Hill Press
My Rating:
★★★★★
Synopsis:
Fate isn't something to mess with… and now, neither is Alex.
Alex has always feared two things: losing herself in the Awakening and being placed on the Elixir. But love has always been stronger than Fate, and Aiden St. Delphi is willing to make war on the gods—and Alex herself—to bring her back.
The gods have killed thousands and could destroy entire cities in their quest to stop Seth from taking Alex's power and becoming the all-powerful God Killer. But breaking Alex's connection to Seth isn't the only problem. There are a few pesky little loopholes in the whole "an Apollyon can't be killed" theory, and the only person who might know how to stop the destruction has been dead for centuries.
Finding their way past the barriers that guard the Underworld, searching for one soul among countless millions, and then somehow returning will be hard enough. Alex might be able to keep Seth from becoming the God Killer… or she might become the God Killer herself.
First and foremost, Jennifer L. Armentrout has done it again. She is a goddess. Her books give me life. This book did not disappoint. This book was filled with action, emotions, and romance and I loved every single second of it. Seeing Alex change from a Seth obsessed girl to this strong badass Apollyon really made me appreciate character development and individuality. Being true to ourselves is what defines us a humans and we shouldn't allow anyone try to control us. Seth... don't get me started on him. How could he willingly take someone's essence away? Lucian on the other hand, I always knew he was super shady. I've always preached to the gods about this but the love Alex and Aiden have is incredible. Even in her messed up state, Aiden did everything he could for her because he loves her. Sometimes I think he loves her a little bit too much because he beats himself up all the time and has little pity parties. Ghost Caleb, Deacon, and Apollo also make this book so great. They are funny and I so wish I had them as friends. Macus also grew on me a lot. He is a lot less of a dick than I thought and it was a delight to see his personality grow. The gods...well I just enjoy most of them so much. They are basically children.
SPOILER:
As for Ares, well I totally called him being behind this situation. He is always trying to screw everything up.
As far as story line goes, yes it was a tad bit predictable, but nevertheless it was still enjoyable and exciting. I feel really bad for us mortals. The world is going to shit and no human knows why. One problem I had with this book was the many times Alex and Aiden hooked up. I mean I have never been kissed or had a boyfriend or girlfriend, but seriously the amount of times they kiss and have sex is ridiculous. Are people really that horny? Do people go at it that often? Seriously Alex and Aiden are like rabbits. At first I enjoyed their little sessions but after a while I got tired of it because at times it seemed irrelevant or poorly timed.
Overall this book was an excellent read for me. The story was gripping, the characters are the bomb, and I can't get enough of it. So sad "Sentinel" is the last book.