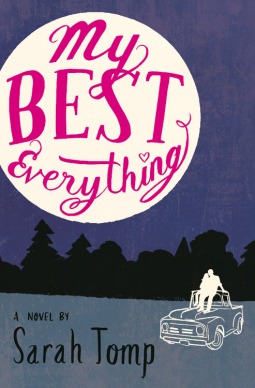 Book:
My Best Everything
Author:
Sarah Tomp
Format:
ARC
Page Count:
(Final Published Hardcover, 400 pages)
Publisher:
Little, Brown Books for Young Readers
My Rating:
★★
Synopsis:
You say it was all meant to be. You and me. The way we met. Our secrets in the woods. Even the way it all exploded. It was simply a matter of fate.
Maybe if you were here to tell me again, to explain it one more time, then maybe I wouldn't feel so uncertain. But I'm going back to the beginning on my own. To see what happened and why.
Luisa "Lulu" Mendez has just finished her final year of high school in a small Virginia town, determined to move on and leave her job at the local junkyard behind. So when her father loses her college tuition money, Lulu needs a new ticket out.
Desperate for funds, she cooks up the (definitely illegal) plan to make and sell moonshine with her friends, Roni and Bucky. Quickly realizing they're out of their depth, Lulu turns to Mason: a local boy who's always seemed like a dead end. As Mason guides Lulu through the secret world of moonshine, it looks like her plan might actually work. But can she leave town before she loses everything – including her heart?
The summer walks the line between toxic and intoxicating. My Best Everything is Lulu's letter to Mason – though is it an apology, a good-bye, or a love letter?
My thoughts on "My Best Everything". I received this ARC on Netgalley and I was so excited to read this. I thought it was going to be a cute contemporary with a dark undertone in which a girl struggles to make ends meet in order to go to college, thus going into business with a shady guy that she eventually falls in love with. That was kind of the case.
I'm going to be honest: this book was a disappointment and bored me. At about 60% in, I decided to skim the rest of the book. This makes me so sad because this book had so much potential. When I started the book, I really enjoyed the writing style. It was written as a letter and the syntax was beautiful. After a while though the writing style just wasn't enough to capture my attention. Part of the problem was I didn't connect with the characters. In order for me to really enjoy a book, I want to not only like the plot, but I need to become emotionally invested in the characters. Especially in contemporary, I want to love the characters so that every time they interact I get overwhelmed with emotions. That was not the case in this story. The two characters that were supposed to fall in love, Lulu and Mason, I didn't care for their relationship. The first time they kissed, it was no big deal to me; I just wanted more than anything for the story to continue and be over.
The plot had the potential to be intriguing, however it fell short. I feel like the story focused more on the moonshine than the romantic aspect. A huge reason why the plot didn't impress me was because of Lulu. Everything that happens is entirely her fault. For an "AP Chemistry" she is awfully stupid. The whole reason why she is making moonshine is because she didn't have money to go to college. I don't buy it. As a senior in high school who is endeavoring in the college journey, I know for a fact that before and when you are accepted to a college, colleges force you to fill out every financial aid form under the Sun. And if she was truly an academically superior student, she would have filled out all the forms before the deadlines. So I guess the reason why the plot was shaky for me was simply because I couldn't get over how poorly developed of a character Lulu was. The whole plot in general at times seemed completely irrelevant and pointless at times, leading to me skimming most of the book. The ending, well it was a thumbs down like the rest of the book.
Overall this book was a letdown for me. It had so much potential but so many aspects of the story didn't come through.
This is an honest review for an ARC on Netgalley through Little, Brown Books for Young Readers.