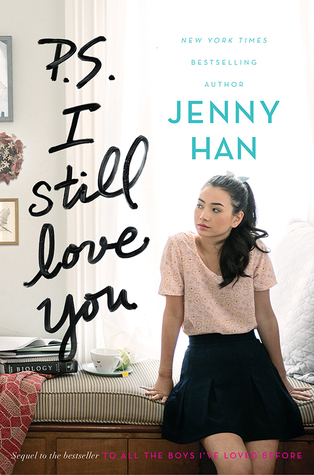 Series: To All The Boys I've Loved Before


Author: Jenny Han
Format: Ebook
Page Count: 288
Publisher: Simon and Schuster for Young Readers
My Rating: ★★★ 3/4
Synopsis: Lara Jean didn't expect to really fall for Peter.
She and Peter were just pretending. Except suddenly they weren't. Now Lara Jean is more confused than ever.
When another boy from her past returns to her life, Lara Jean's feelings for him return too. Can a girl be in love with two boys at once?
In this charming and heartfelt sequel to the New York Times bestseller To All the Boys I've Loved Before, we see first love through the eyes of the unforgettable Lara Jean. Love is never easy, but maybe that's part of what makes it so amazing.
"To All The Boys I've Loved Before" was one of my favorite books of last year, so I had extremely high hopes. I will tell it to you straight, I was disappointed. Don't get me wrong, I still enjoyed the book, but I found myself annoyed more. Lara Jean seems so damn naive and immature for someone who is my age. Also the whole love triangle thing kind of messed with my emotions because I love Peter so much but I will be the first to admit he is a dick sometimes and John seems like a nice guy. When Lara Jean wasn't being a werido and was with Peter, I loved the romance they had. I also loved what she had with John. I think Jenny Han was trying to show the complexity that is love and that love is messy and will make people go crazy.
But for real though Lara Jean sounds like a 12 year old. Maybe I didn't feel annoyed towards her when I read the first book because I myself was a little lovesick, but now that I am moving on to college and I have matured past all of that, I can see that she has some growing up to.
Despite this all I still loved the writing. Jenny Han's writing just spoke to me in a way only these books could. They made my heart swell with love for the love going on and that's what I love to feel when I'm reading a contemporary.
Also Kitty is a evil little brat and I love/hate her for it.
*I know that doesn't seem like much of a review but I don't want to spoil anything this early on and I don't really know how to articulate my feelings towards this book.