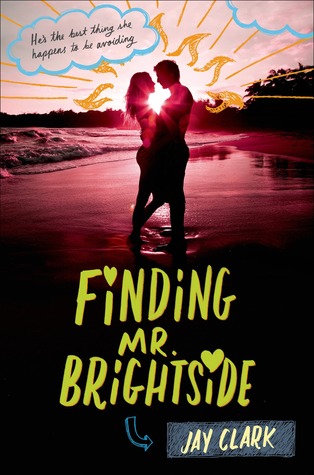 Book:
Finding Mr. Brightside
Author:
Jay Clark
Format:
Hardback
Page Count:
224
Publisher:
Henry Holt & Co
My Rating:
★★★ 1/2
Synopsis:
Abram and Juliette know each other. They've lived down the street from each other their whole lives. But they don't really know each other—at least, not until Juliette's mom and Abram's dad have a torrid affair that culminates in a deadly car crash. Sharing the same subdivision is uncomfortable, to say the least. They don't speak.
Fast-forward to the neighborhood pharmacy, a few months later. Abram decides to say hello. Then he decides to invite her to Taco Bell. To her surprise as well as his, she agrees. And the real love story begins.
So I won this book in a giveaway so I was super excited to read it especially cause the cover is gorgeous. The concept seemed pretty interesting and the synopsis really grabbed my attention. I mean Taco Bell, hello? So I was like this:
In the beginning, I was liking what I was seeing. I felt like a lot could happen with this book. Both Abram and Juliette had their issues and I was helping they would help each work through their issues and the process would be cute especially considering their parents were in an affair cause that has got to be awkward. So that kind of happened.
So Abram and Juliette definitely helped each other work past their issues and what not and fell in love, but there felt like there was no plot. It was cute and all and I was rooting for them, but I wasn't really invested in the story. It was all rather predictable in the fact that they got together in the end, but besides that nothing really happened.
Writing wise I thought the writing was good and I really did enjoy each of their POVs and the thoughts they had, so a big thumbs up for that.
Overall I thought it was a pretty cute contemporary. There wasn't much depth to it but it was still enjoyable.