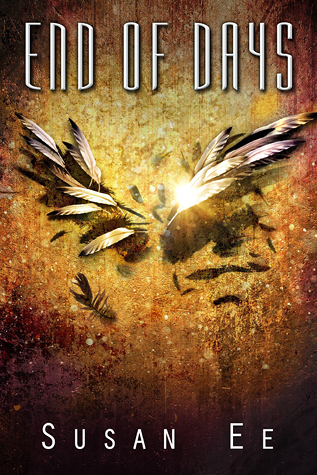 Series:
Penryn and the End of Days
Author:
Susan Ee
Format:
Ebook
Page Count:
344
Publisher:
Skyfall
My Rating:
★★★★ 1/2
Synopsis:
After a daring escape from the angels, Penryn and Raffe are on the run. They're both desperate to find a doctor who can reverse the twisted changes inflicted by the angels on Raffe and Penryn's sister. As they set off in search of answers, a startling revelation about Raffe's past unleashes dark forces that threaten them all.
When the angels release an apocalyptic nightmare onto humans, both sides are set on a path toward war. As unlikely alliances form and strategies shift, who will emerge victorious? Forced to pick sides in the fight for control of the earthly realm, Raffe and Penryn must choose: Their own kind, or each other?
Guys... I can't believe this series is over. It can't be over. I feel like it is yesterday and that it just began. Because the book recently came out and I'm not sure I can coherently form thoughts this is going to be a brief and spoiler-free review.
Overall I really enjoyed it. I was glad to be back in the world Susan Ee created and to have Rafe and Penryn back together (*cough* OTP for life *cough* they are perfection*). The book was really fast paced and a lot happened. One thing I expressed in my "Angelfall" and "World of Day" reviews was I wanted to know more about the angels and how they came to be on Earth. Honestly, we learn some stuff, but not nearly as much as I was hoping. It was left really ambiguous which was pretty disappointing. The book also took a direction I did not foresee but I was still happy with it especially with all that sexual tension between Raffe and Penryn *high pitched giggle*.
FAVORITE QUOTE:
"Just because I don't have a problem on the outside visible for the world to see doesn't mean I'm not messed up on the inside."
"Power is best held by the ones who don't want it."
"Who knew?" he (Raffe) says. "I had no idea that someone could be such a thorn in your foot during a death march and still be irresistibly attractive in some magical, undeniable way."
My final thoughts are I am sad to see this series end because I thought it would be longer and I wanted so much more on Raffe and Penryn. I hope sometime Susan Ee will expand more on this more and possibly make some novels *nudge nudge*.