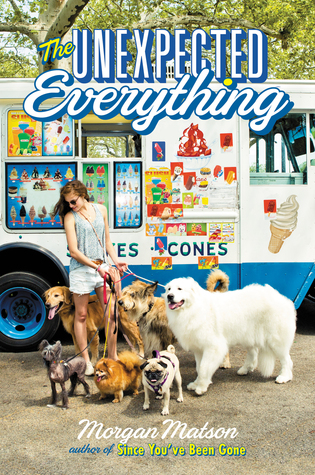 Book:
The Unexpected Everything
Author:
Morgan Matson
My Rating:
★★★
Synopsis:
Andie had it all planned out.
When you are a politician's daughter who's pretty much raised yourself, you learn everything can be planned or spun, or both. Especially your future.
Important internship? Check.
Amazing friends? Check.
Guys? Check (as long as we're talking no more than three weeks).
But that was before the scandal. Before having to be in the same house with her dad. Before walking an insane number of dogs. That was before Clark and those few months that might change her whole life.
Because here's the thing—if everything's planned out, you can never find the unexpected.
And where's the fun in that?
I read this book as a buddy read with my friend
Temecka
. This was my first Morgan Matson book and Temecka really likes Morgan Matson, so I was totally okay reading this book. Unfortunately, this book just didn't do it for me. Plot-wise, it felt like a lot of unnecessary drama and was quite slow at times. It also felt immature at times and it kinda just reassures my push towards less young adult and more adult books. Character wise, there were no characters that I really liked. The main character Andie was just a bit too arrogant and confident for me, though she did change some for the better towards the end. I did really like Clark, the main guy love interest in the beginning because he was the shy, awkward, quite nerd that I love, but somehow when the relationship became a thing, that all dissolved away and he was just like any other guy. I think what I liked most about the book was seeing the change between the dad and Andie's relationship. Overall I wasn't that impressed. I'm still going to give "Since You've Been Gone" a chance because I'm hoping I will identify more with the main character since she has social anxiety.