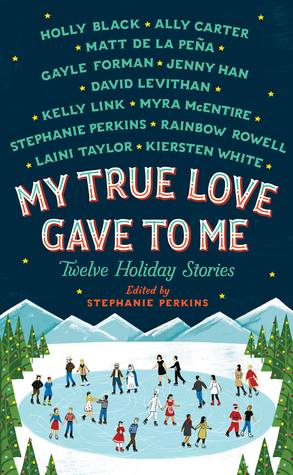 Book:
My True Love Gave to Me
Author:
Various
Publisher:
St. Martin's Press
My Rating:
★★★
Synopsis:
If you love holiday stories, holiday movies, made-for-TV-holiday specials, holiday episodes of your favorite sitcoms and, especially, if you love holiday anthologies, you're going to fall in love with My True Love Gave To Me: Twelve Holiday Stories by twelve bestselling young adult writers, edited by international bestselling author Stephanie Perkins. Whether you enjoy celebrating Christmas or Hanukkah, Winter Solstice or New Year's there's something here for everyone. So curl up by the fireplace and get cozy. You have twelve reasons this season to stay indoors and fall in love.
To be honest, I came into this book with very low expectations. I had heard primarily negative/okay reviews for this book and by the time I started it, I really didn't want to read it, but alas, I pushed myself through it. There were a few good stories, but overall they were not that good.
Midnights by Rainbow Rowell | 2.5/5 Stars
This was such a disappointment for a Rainbow Rowell story. I really liked Fangirl as well as Eleanor and Park so I went into this one thinking I would like it a well. Honestly, it was hard to follow and I didn't care for the characters or situation. This story was almost like a getting out of the friend-zone story and it was not my cup of tea.
The Lady and the Fox by Kelly Link | 2/5 Stars
I don't even know what to think of this story. Most of the time I didn't know what was going on and whether this was real or a dream or something. The ending was so just unbelievable and just weird.
Angels in the Snow by Matt de la Pena | 3/5 Stars
This could have been a good story but it was just odd to me. The whole story just didn't grab my interest and the main characters were kinda blah.
Polaris is Where You'll Find Me by Jenny Han | 3/5 Stars
I have decided that Jenny Han is not my cup of tea and "To All the Boys I've Ever Loved Before" is an anomly and the only book I like from her. This main character was childish and immature just like all of Jenny Han's other characters, and this frustrates. Also the story didn't really make sense. There is no way in hell Santa is adopting some random kid left in his sleigh.
It's a Yuletide Miracle, Charlie Brown by Stephanie Perkins | 5/5 Stars
Ahhh, now this, this was a great story. Stephanie Perkins did not disappoint. This is what I wish all the other stories could have been like. I loved the dynamics between the two main love interests and just the sexual buildup was perfect. Also the dialogue between them was on point. This is the type of story you want to read during the holidays.
Your Temporary Santa by David Levithan | 2/5 Stars
This was just blah really didn't make any sense. I skimmed through it.
Krampuslauf by Holly Black | 2.5/5 Stars
I love Holly Black and this was just a letdown. The magic and story were just meh and it felt really unrealistic and kind of immature.
What the Hell Have You Done, Sophie Roth by Gayle Foreman | 4/5 Stars
This was a short, sweet little story. My main problem is who in their right mind would get into a car with a random strange and within hours of knowing that person invite them to your dorm and make out with them? Maybe I just don't trust people like other college students.
Beer Buckets and Baby Jesus by Myra McEntire | 5/5 Stars
This was a fantastic story. I have never read anything by this author, but now I plan on doing so. I loved the dynamics and conversations between the main love interests as well as the character development of the main guy. Also the pastor dad was pretty cool and I loved how the religious girl was able to look at the faults in her own religion and recognize them instead of pretending they don't exist. I also really liked the writing style
Welcome to Christmas, CA by Kiersten White | 4.5/5 Stars
This was extremely cute, though hella unrealistic. Despite this, the main love guy was to die for. I mean he is weird and lovable, the perfect combination. While I didn't really care that much for the actual plot, it was still cute.
Star of Bethlelem by Ally Carter | 2/5 Stars
I'm sorry, I love Ally Carter's spy books, but this was just the most unrealistic load of bullshit. People don't randomly just change places in the middle of the airport and then go with the flow. And the romance was so forced and not at all enjoyable. Honestly, I didn't even give a rat's ass about any of the characters.
The Girl Who Woke the Dreamer by Lani Taylor | 1/5 Stars
I tried to read this all the way, but it was just too damn hard to understand what was going on that I gave up. I didn't like the writing style or basically anything about the story.