Somehow 2015 has already almost come and gone. Soon 2016 will be here, and that's kind of terrifying. In 2015, I graduated high school and completed my first semester of college. In 2016, I will finish my first year of college and finish half of my second year. I don't remember time moving this fast in the past.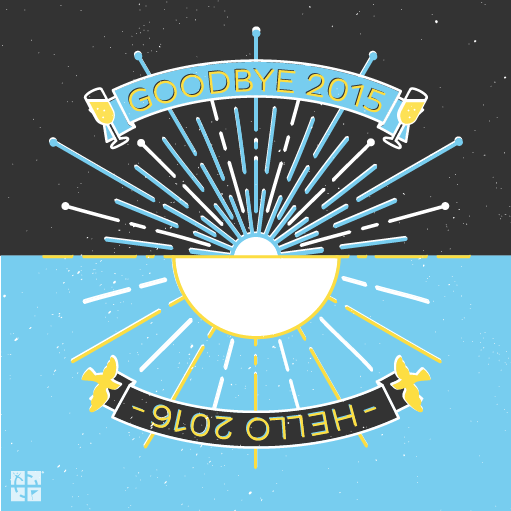 In 2015, I had my one year book blog anniversary, and honestly, I didn't think this would last one year. The fact that it has, drives me to want to do even more things with this outlet. I have so many plans, but you know, college is still a part of my life, so I need to be a little more realistic.
So today, I'm going to outline some of my basic plans for the upcoming year.
Reading Goals
Read 100 books

- My reading goal for 2016 is the same as it was for 2015, simply because I don't think I can do anymore than with college, work, and research. Also, this summer I might be doing an internship, so I might not even really have time to read during the summer which is when I usually get the most reading done.

Read at least once a week

- I know this seems like a pretty easy goal, but with my busy life, I sometimes forget to read.

Try to read a book within a month of buying it

- There are some books on my shelf that I have had for awhile and still haven't read, so to prevent this from happening more often, I'm going to try to read the book within a month of buying it.

Read more adult books

- Lately, young adult novels just haven't been cutting it, and to be honest, they are kinda pissing me off. I don't if it's because I have read too many or if I'm just growing out of this genre.
Books I Absolutely Need to Read
You by Caroline Kepnes

- I started this book in August 2015 and stopped reading it when I started college.

Sphinx's Princess by Esther Friesner

- Same as the book above

Mistborn by Brandon Sanderson

- I caved and bought this last month, so I need to read it.

Carry On by Rainbow Rowell

- I bought this for my birthday. My birthday was November 6th. I need to read this soon cause it's been over a month.
Blog Goals
Post at least twice a week

- To be honest, sometimes I forget I have this blog or I become so busy that I can't even think about putting aside time to blog. So I'm gonna aim to blog twice a week, probably Tuesday and Thursday, because those are my least busy days this upcoming semester.

Bring back Talk Time

- For those of you who don't know, Talk Time was a discussion based post that I did for a grand total of eight times before I stopped in October because I forgot to do them. So I'm probably going to schedule more of these because I love discussion based posts because I feel like I really get to talk with you guys.

Post my review within a week of finishing the book

- I'm usually pretty good about putting a review up right away, but there are some books where I just don't feel like putting up a review or a wait a hella long time before doing so.

Do more posts outside of reviews

- If you look at my blog, most of the posts are reviews, which isn't a bad thing because this is a book review blog, but I feel like I need to shake things up more.

Do less blog tour stuf

f

- I used to do a lot of blog tour stuff for PR companies, but I've been trimming it down because it just doesn't appeal to me as much anymore.

Only get ARCs that I really want

- In the beginning I thought get ARCs was so cool and so I tried to get them at every chance, but now I realize that they really aren't that important, and most times I don't even enjoy them that much.

Make more contacts in the publishing business

- As of late in the year, I've been doing a pretty good job of doing this and I want to continue to foster a good relationship between me and publishing companies.

Discover more book blogs to follow and comment on

- I need to find more blogs to follow and comment on because I feel like I'm not fully connected with the book blog world.

Make more book blogger friends

- I really love talking to book bloggers, not only about books but anything really. They are such a great community and I feel like I'm not as tight with people like I've seen some people. So please please please, be my friend! I promise I don't bite.
So those are my goals for 2016. I know it is a lot, but they are really important to me and I really want to accomplish it. What are some of your goals? I would love to hear from all of you.