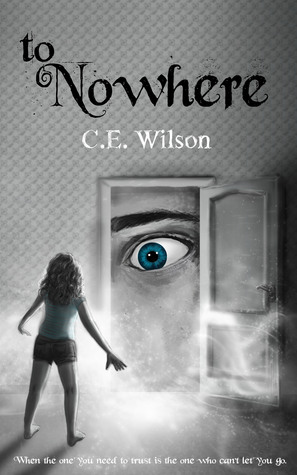 Book: To Nowhere


Author: C.E. Wilson
Format: ARC
Page Count: 295 (Final paperback)
Publisher: Christina Snyder
My Rating: ★★★
Synopsis: A world no one would believe.
From the moment Lyris is treated to coffee by a beautiful stranger, she has no idea that her life is about to change forever. In her enthusiasm to start at a new school with a new boyfriend, Lyris is almost able to look past his oddities.
Almost.
The way he eyes up her striking red hair.
The way he loves that she's seventeen. "The perfect age."
And the way he's gone from all but begging to show her a specific room in a specific house to making her swear never to even think about it again.
When Lyris doesn't take his strange warnings seriously, she finds that nothing could have prepared her for what lay behind that door.
Suddenly, Lyris finds herself in a world no one would believe. A world where she's only a few inches tall and giants aren't creatures from fairy tales. Where humans are no longer the dominant race, but pets auctioned off to the highest bidder. Lyris understands the true danger of such a place, but there seems to be one person on her side.
Her kind and surprised captor.
And while Brindt appears to be sweet and trustworthy, he also straddles the line between seeing her as an equal and a cute animal.
Lyris has to get home… before the one person can turn to becomes the one person who can't let her go.
REVIEW
As many of you know by this, I am a pre-med engineering student away at college, which means I have like zero time to read. Well this author of this book, C.E. Wilson approached me with a review request. At first I almost declined, but the premise sounded really interesting and she gave me a flexible amount of time to read and review, so I accepted the request.
Going into the book, I wasn't really sure what to expect other than the fact that this girl was going to go into a world where giants treat humans like pets. Overall impression of the book was okay; it definitely had room for improvement. I think my main problem with the book was that I hated all the characters, every single one of them. There was not a single person introduced in this book that I liked. It is hard to like a book when the characters make you want to hate the book, especially when the main character is the one you hate the most.
Lyris, the main character... what can I say about her that isn't spoilery... Gosh I just hated her so much. She was an incredibly annoying, dumb, ignorant, naive, and gullible character. There wasn't a single point in the book where I pitied her. No, every singe time she was "shocked" by something or felt sad or basically thought or did anything, I wanted to hit her. She lacks any common sense whatsoever. Everything that happens to her is her fault.
Brindt, the giant who Lyris becomes close with... let's just say he creeps me the hell out, especially for a 15 year old. My brother is 15 years old, and if he was like Brindt, I would smack the hell out of him.
On to Wyatt... I never understand why Lyris liked him. It was blatantly obvious from the moment we meet him that he is shady as hell and quite creepy and selfish.
Plot-wise, I was quite intrigued to see where things would go. There were times when things were a bit slow, irrelevant, or just eye-roll worthy, but it was still pretty captivating. Even though it took me damn near two weeks to read this book (that's because of school though), every time I picked up the book I was focused on it and wanted to get through as much as possible.
When it came to the actual writing, it wasn't anything special. Actually at times it felt incredibly basic, kind of like a middle school or high school girl wrote it. I can't tell you how many times it says "I was shocked", "I was flushed", "I found myself", or "I gasped" or stuff along those lines. Most of the sentences were pretty basic and the description wasn't much. I felt like the writing was very proverbial. It could use some more elevated language, better syntax, action tenses as well as description, and overall in general I think the writing style has a lot of room to grow into something more memorable and not necessarily sophisticated, but something more suited to people that aren't in middle school.
Overall, it was a good book. It was interesting and definitely something unique. I don't I have ever read anything like it before.
GIVEAWAY
Now on to the fun! The author was kind enough to provide me another signed copy for review that one of you could win! To enter, simply do the rafflecopter down below. The giveaway will run from today to October 22nd.
UNFORTUNATELY I AM A BROKE COLLEGE STUDENT SO CONTINENTAL U.S. ENTRIES ONLY. [IF YOU'RE FROM CANADA, I MIGHT BE PERSUADED TO SHIP TO YOU.]
a Rafflecopter giveaway