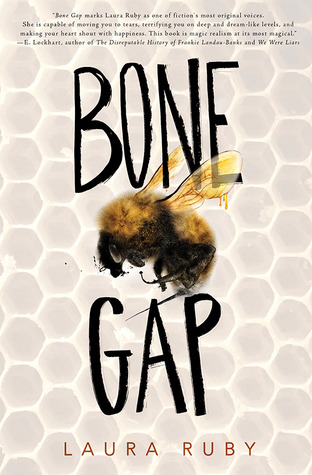 Book:
Bone Gap
Author:
Laura Ruby
Format:
Ebook
Page Count:
373
Publisher:
Balzer + Bray
My Rating:
★★★
Synopsis:
Everyone knows Bone Gap is full of gaps—gaps to trip you up, gaps to slide through so you can disappear forever. So when young, beautiful Roza went missing, the people of Bone Gap weren't surprised. After all, it wasn't the first time that someone had slipped away and left Finn and Sean O'Sullivan on their own. Just a few years before, their mother had high-tailed it to Oregon for a brand new guy, a brand new life. That's just how things go, the people said. Who are you going to blame?
Finn knows that's not what happened with Roza. He knows she was kidnapped, ripped from the cornfields by a dangerous man whose face he cannot remember. But the searches turned up nothing, and no one believes him anymore. Not even Sean, who has more reason to find Roza than anyone, and every reason to blame Finn for letting her go.
As we follow the stories of Finn, Roza, and the people of Bone Gap—their melancholy pasts, their terrifying presents, their uncertain futures—acclaimed author Laura Ruby weaves a heartbreaking tale of love and loss, magic and mystery, regret and forgiveness—a story about how the face the world sees is never the sum of who we are.
So I read Bone Gap for the Four Corners of the Bookshelf October book of the month (although I'm not able to participate in the book discussion for it) and my university's college book club. Coming into the book, I didn't really know what it was about or what to expect from it. All I knew was that there was an element of magical realism, something I was kinda weary of, and for a good reason.
Overall the book just confused me. Maybe I just don't have the right mindset for this book, I don't know. It was intriguing, but there were so many elements of it that I just didn't understand, especially since it was told in many point of views, something I wasn't expecting. The main characters were strange, a little too strange for me, especially Finn. The way Finn described everything was interesting at first but after awhile every time he said or thought something I'd just be left sitting in my chair thinking "what the fuck did I just read"?
When it came to the writing style, I wasn't sure what to think. There were times when I liked it, there were times when I really didn't. I think the whole magical realism aspect was just too hard for me to grasp.
Plot-wise, I wasn't the hugest fan. Most of the plot, was just a waste of time and pretty irrelevant. Like the whole romance thing with Finn; I could care less. I wish more focus had been put on the kidnapping and finding Roza. Also, the whole kidnapping thing was weird with regards to where Roza was confined. Even in the end I didn't realize understand how it happened.
SIDE NOTE: The hell is up with this town's fascination with bees? Like I swear everyone had something to say about bees.
All in all, I'm just not really sure what to think of this book.