So this is my last Friday at home before I move to college Sunday. I haven't gotten a lot of reading done since #BOOKTUBEATHON because I have been busy finalizing everything before I read. However, I have become a host of the Four Corners of the Bookshelf book club. To find out more on that group, click
here
.
Anyway, for that group, our first read is Air Awakens by Elise Kova. We will be having a liveshow discussion as well as a Twitter chat about this book with the author, which you can find out more about if you click the above link.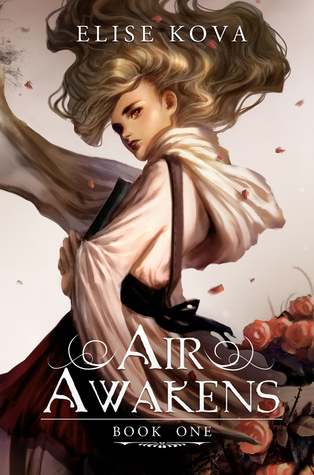 Synopsis:
A library apprentice, a sorcerer prince, and an unbreakable magic bond...
The Solaris Empire is one conquest away from uniting the continent, and the rare elemental magic sleeping in seventeen-year-old library apprentice Vhalla Yarl could shift the tides of war.
Vhalla has always been taught to fear the Tower of Sorcerers, a mysterious magic society, and has been happy in her quiet world of books. But after she unknowingly saves the life of one of the most powerful sorcerers of them all—the Crown Prince Aldrik—she finds herself enticed into his world. Now she must decide her future: Embrace her sorcery and leave the life she's known, or eradicate her magic and remain as she's always been. And with powerful forces lurking in the shadows, Vhalla's indecision could cost her more than she ever imagined.
So far I am quite enjoying this book. The author does a really good job building this world up and making the fantasy. Not a lot of authors are good at coming up with a thorough fantasy world, but Elise Kova does. I also really like the writing style. I don't know what it is, but it is a nice, clean style. I'm about 40% into the book and I hope to finish it this weekend before moving.
So what are you guys currently reading this Friday or weekend?