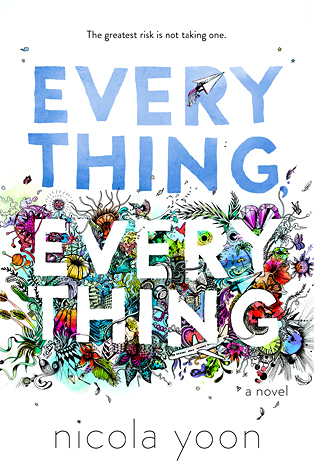 Book:
Everything, Everything
Author:
Nicola Yoon
Format:
ARC
Page Count:
(Final Hardcover) 307
Publisher:
Random House Books for Young Readers
My Rating:
★★★★
Synopsis:
This innovative, heartfelt debut novel tells the story of a girl who's literally allergic to the outside world. When a new family moves in next door, she begins a complicated romance that challenges everything she's ever known. The narrative unfolds via vignettes, diary entries, texts, charts, lists, illustrations, and more.
My disease is as rare as it is famous. Basically, I'm allergic to the world. I don't leave my house, have not left my house in seventeen years. The only people I ever see are my mom and my nurse, Carla.
But then one day, a moving truck arrives next door. I look out my window, and I see him. He's tall, lean and wearing all black—black T-shirt, black jeans, black sneakers, and a black knit cap that covers his hair completely. He catches me looking and stares at me. I stare right back. His name is Olly.
Maybe we can't predict the future, but we can predict some things. For example, I am certainly going to fall in love with Olly. It's almost certainly going to be a disaster.
Let me start by saying I requested this book on Netgalley and was so excited when the request was granted because everyone and their mother in the book community has been praising this book. The hype was very much real and very high. That being said...
I enjoyed it a lot, but I didn't think it was all that and a bag of chips. I thought it was an extremely cute contemporary and I was really rooting for Mandy and Olly. On the same token, I felt like they were kind of stupid for taking certain risks and that their chemistry seemed a little too instalove to me. I mean, I still shipped them, but it didn't feel realistic to me, though I can understand Mandy's immediate obsession to him because she has been cut off from the world of boy. On the other hand, I don't understand how her actions could be so quick and thoughtless.
When it comes to characters, I liked Mandy, but at the same time I found her extremely annoying and a little too naive. Olly definitely made my heart swoon but I also found him so unrealistic. I mean, if you can find a boy like that in real life, by all means send him my way. The mom... let's just say I didn't like her in the beginning, I didn't like her in the end. I predicted from the start what her role in the story would be. Out of all the characters I enjoyed Carla the most. She is the friend/mother figure I wish I had in my life. I find it so neat that Mandy has the woman that she can tell just about anything to.
My main disappointment towards this story was that it was extremely predictable. I mean I predicted everything from the beginning to end. But maybe I'm just that awesome at predicting.
Now to the good things. It made me so so happy that not only is the author a person of color, but Mandy, the main character is multiracial. It is so rare to have female main characters be a person, much less multiracial. I was really happy about this aspect in particular because I am multiracial and it felt good to read about someone like me. When Mandy was described, it felt like I was reading about myself, down to the puffy hair and freckles. I loved that! It is not often that I can identify with a character like that.
Something that really stood out to me was the style of the writing. Some chapters were long while others were a short paragraph or a sentence. Despite the plot, I think the writing style was really something special and unique. I would love to see more writing from Nicola Yoon.
In addition to the writing style I absolutely loved the drawings, especially the little infographics. I enjoyed the simplicity of them and their style. It's also really cool that Nicola's husband drew it.
All in all it was a nice contemporary. I wish more had happened, but I enjoyed the romance in it and the overall message you get from it is pretty inspiring.