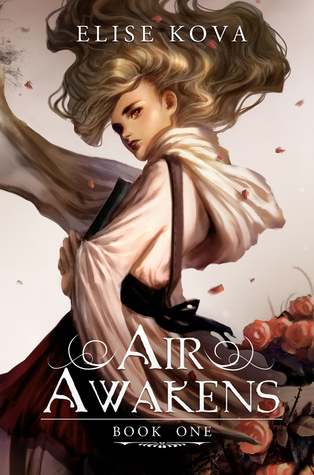 Book:
Air Awakens
Author:
Elise Kova
Format:
ARC
Publisher:
Silver Wing Press (August 27th, 2015)
My Rating:
★★★★
Synopsis:
A library apprentice, a sorcerer prince, and an unbreakable magic bond...
The Solaris Empire is one conquest away from uniting the continent, and the rare elemental magic sleeping in seventeen-year-old library apprentice Vhalla Yarl could shift the tides of war.
Vhalla has always been taught to fear the Tower of Sorcerers, a mysterious magic society, and has been happy in her quiet world of books. But after she unknowingly saves the life of one of the most powerful sorcerers of them all—the Crown Prince Aldrik—she finds herself enticed into his world. Now she must decide her future: Embrace her sorcery and leave the life she's known, or eradicate her magic and remain as she's always been. And with powerful forces lurking in the shadows, Vhalla's indecision could cost her more than she ever imagined.
So this review is going to be pretty quick because you will be able to hear most of my thoughts during the
Four Corners of the Bookshelf
book talk August 29th, 8am EST. Coming into this book I had extremely high expectations because Dani from Dani Reviews Things who originally read the book and connected with the author to get this book for our first book club book. In the end, the expectations for the most part were met. I liked the concept for the story and the world Elise Kova wrote. I thought she did a damn good job creating the world and just writing in general. I don't know what it is, but I really enjoyed her writing style. A lot of authors struggle to write fantasy novels that aren't cluttered or boring or just have uninteresting worlds but that was not an issue here. For the most part I thought the characters were good, but I didn't really like or attach myself to any of them. In the beginning I really wasn't feeling Vhalla, but she got better towards the end. I'm really excited to see what she is like in the next book because based off the teaser she is going to be hardcore and a complete badass, just how I like my female characters. Prince Aldrik... I thought he was moody and almost bipolar and as for his brother he is like the stereotypical prince, but I'm okay with him because he has a good head on his shoulders.
There are a few things I did not like about the book. First of all, I thought there was going to be more of a fantasy element to it. For quite a bit of the book, I felt like fantasy wasn't even a main component of the story or important. The plot moved along pretty slow at times and it seemed almost like a fantasy romance book with more emphasis on the romance. Another thing I really really did not like was the love square that later became a love triangle. I feel like one of the men in this geometrical shape was unnecessary for the story. Also, although the author has never seen "Avatar: The Last Airbender" it had that feel to it, especially since Vhalla is the last Windwalker to be seen in 143 years and just pops up out of nowhere like Aang from The Last Airbender.
Now on to the thing I absolutely hated about the book with every fiber of my body: the Bond. I hate bonds in anything, whether it be a book, tv show, etc. I think they are the dumbest thing on Earth. I feel like they are a cop out or reason for two characters to love each other or be drawn to one another and I hate that. I believe in stories where the love is real and not at all influenced. Yeah sometimes people will say after a bond is gone or even when the bond is there that the bond had no influence, but I think that is complete and utter bullshit.
Overall I really did enjoy the book. It was interesting to read and really drew me in. I can't wait to talk about the book with you guys and I need the second book in my hands now!