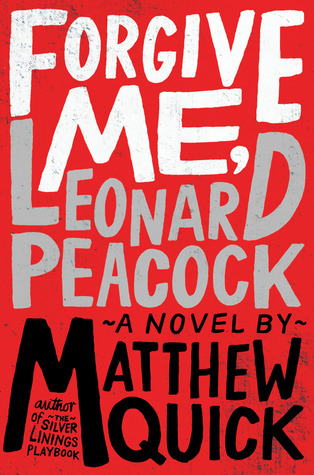 Book:
Forgive Me, Leonard Peacock
Author:
Matthew Quick
Format:
Ebook
Page Count:
278
Publisher:
Little, Brown Books for Young Readers
My Rating:
★★★★★
Synopsis:
Today is Leonard Peacock's birthday. It is also the day he hides a gun in his backpack. Because today is the day he will kill his former best friend, and then himself, with his grandfather's P-38 pistol.
But first he must say good-bye to the four people who matter most to him: his Humphrey Bogart-obsessed next-door neighbor, Walt; his classmate, Baback, a violin virtuoso; Lauren, the Christian homeschooler he has a crush on; and Herr Silverman, who teaches the high school's class on the Holocaust. Speaking to each in turn, Leonard slowly reveals his secrets as the hours tick by and the moment of truth approaches.
In this riveting look at a day in the life of a disturbed teenage boy, acclaimed author Matthew Quick unflinchingly examines the impossible choices that must be made—and the light in us all that never goes out.
I read this book for the #BOOKTUBEATHON read someone else's favorite book challenge. Well this is my friend Tameka's favorite channel, which you can find her on Booktube and Goodreads. Anyway, coming into this book I knew nothing other than the fact that this guys wants to kill his best friend and himself.
I fucking love this book. This book was brilliant on every level and I adore it with all of my heart. It was exactly what I needed to read. The writing was beautiful perfection and I love Leonard Peacock. I love the way his dark mind works. He clearly has issues, but he makes humor of it all and I'll be damned if I can't relate to that. It's even better because he is an atheist like myself and some of the ideas and contradictions he brings up on religion are so on point. Not only was Leonard Peacock an amazing character but Herr Silverman, his teacher was absolute perfection. I wish I ha someone like this man in my life. He really has a great view of the world and really points out the truths of the world. The journey and revelations Leonard had throughout the novel really spoke to me and made me so damn emotional. I'm sorry for all the swearing, but I honestly can't articulate how much this book really moved me. I wanted nothing more than to take Leonard and hold him in my arms. He had been through so much, saw the world as it truly is, and had no one in his life who really gave two shits about him besides Herr Silverman.
I just... The messages and themes conveyed in this book are so powerful and the way Matthew Quick portrays them are excellent. There is so much the future can hold for us as long as we can just hold on to see it. This author clearly has a good head on his shoulders. I wish I had read this book earlier when I was still in high school because I so could have used it. There were so many times when my mindset was just like Leonard Peacock's.
Honestly I would highly recommend this book to anyone if you don't mind reading dark contemporary laced with humor and you can handle mature content. If you can, please, I beg of you, read this book. Especially if you're mind is in a dark place or tends to wander to a dark place. This book can really put the world into a good perspective.
FAVORITE QUOTES:
"If my classmates put as much effort into making our community better as they give to the college application process, this place would be a utopia."
"These people we call Mom and Dad, they bring us into the world and then they don't follow through with what we need, or provide any answer at all really-- it's a fend-for-yourself free-for-all in the end, and I'm just not cut out for that sort of living."
Brilliant. Absolutely brilliant.