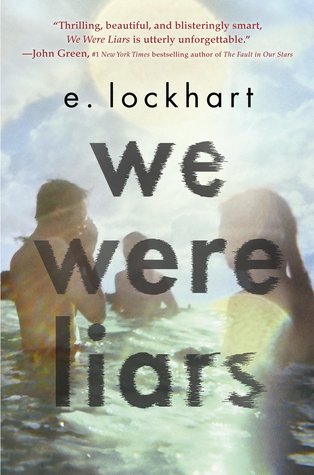 Book
: We Were Liars
Author
: E. Lockhart
Format
: E-book
Page Count
: 242
Publisher
: Delacorte Press (May 13, 2014)
My Rating:
★★★★
Synopsis
:
A beautiful and distinguished family.
A private island.
A brilliant, damaged girl; a passionate, political boy.
A group of four friends—the Liars—whose friendship turns destructive.
A revolution. An accident. A secret.
Lies upon lies.
True love.
The truth.
We Were Liars is a modern, sophisticated suspense novel from New York Times bestselling author, National Book Award finalist, and Printz Award honoree E. Lockhart.
Read it.
And if anyone asks you how it ends, just LIE.
This book was absolutely wonderful. It was so beautifully written. The prose is amazing and the plot is just mind blowing. This book messed with my psyche and psychologically messed me up so much, but I don't even care. I love it. The metaphors are so excellently written, they shock you when you first read them and you have to go back and read them a couple of times because you're like, "that couldn't have actually happened" until you analyze it and realize it is a metaphor. Just the writing itself, story aside, is amazing. Combine it with such a shifty and psychological plot and the book is the definition of perfection.
Well that is all I can say without spoiling anything. So if you haven't read this book, PLEASE GO AWAY AND READ IT!!! You will thank me later.
Now to the real SPOILER deal.
Right from the start we get such beautifully written prose when Cadence is setting up the story. Like when she states that her dad shot her, I literally thought he shot her until I realized it is a metaphor.
When we learn Gat has a girlfriend and Cadence starts acting a fool, I was so mad at Gat, I mean, what a selfish bastard. And then she goes and kisses him, like NOOOOO don't be stupid Cadence.
Cadence's mom.... I hate her. She mistreated Cadence so badly and was really just a selfish bitch. For example when Cadence is crying over Gran, she tells Cadence, "She made me act normal. Because I was. Because I could. She told me to breathe and sit up. And I did what she asked. Again." I mean... what a heartless mother.
Whenever Cadence was describing the metaphors, I was just so awed by how powerful and beautiful the metaphors were. Lockhart did an excellent job crafting them.
In general, the family was terrible. But that in itself is a better of how money doesn't necessary equivalent happiness. I found it aweful how the sisters only wanted money and property and Grandad just strung them along cause he liked the feel of power.
When Bonnie is talking about Cadence's hair and she replies with, "It's okay, I don't actually care what you think, so it's perfectly okay." That made me sooo happy. She really needed to stick up for herself.
I absolutely loved the little stories Cadence made up about the king and the sisters. I feel like they really helped draw a picture of how aweful the rich
can
be if they allow money and power to get to them.
When Cadence first started getting her memories back, I started freaking out cause I could see they were headed in a bad direction. So when she gets all her final memories back, I almost cried because I couldn't believe Mirren, Gat, and Johnny had been ghost/hallucinations or whatever the hell they were the whole time and died in the fire. That mentally f@cked me up. I still can't wrap my head around it.
FAVORITE QUOTES:
"Silence is a protective coating over pain." -Cadence's mom
"We should not let the family fall apart. We should not accept an evil we can change. We would stand up against it, would we not? Yes. We should. We would be heroes." -Cadence
Overall an AMAZING book.