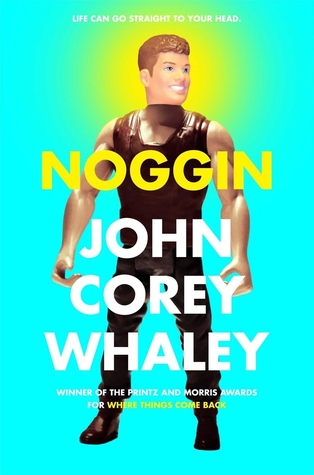 Book:
Noggin
Author:
John Corey Whaley
Format:
Hardcover
Page Count:
352
Publisher:
Atheneum Books for Young Readers; First Edition edition (April 8, 2014)
My Rating:
★★★★★
Synopsis:
Travis Coates has a good head…on someone else's shoulders. A touching, hilarious, and wholly original coming-of-age story from John Corey Whaley, author of the Printz and Morris Award–winning Where Things Come Back.
Listen—Travis Coates was alive once and then he wasn't.
Now he's alive again.
Simple as that.
The in between part is still a little fuzzy, but Travis can tell you that, at some point or another, his head got chopped off and shoved into a freezer in Denver, Colorado. Five years later, it was reattached to some other guy's body, and well, here he is. Despite all logic, he's still sixteen, but everything and everyone around him has changed. That includes his bedroom, his parents, his best friend, and his girlfriend. Or maybe she's not his girlfriend anymore? That's a bit fuzzy too.
Looks like if the new Travis and the old Travis are ever going to find a way to exist together, there are going to be a few more scars.
Oh well, you only live twice.
This book was hilarious. Normally I don't read book from male point of views, but this book was an exception. I really enjoyed the humor in this book. There was nothing extremely exceptional about the writing but it was still a really enjoyable book. One thing however that I really found neat was how the last words of the chapter made up the title of the next chapter.
Now to the actual plot. It really wasn't anything that special. I'm glad Travis was able to rekindle his friendship with Kyle and help Kyle recognize his true feelings. Also I really enjoyed Hatton. Hatton was funny and despite being "not cool" he really made the best out of high school. It really bothered me how immature Travis was when it came to Cate and pining after her. As a sixteen year old myself, I am surrounded by guys my age at school and I have a twin brother. I cannot foresee a guy being that crazy over a girl. I am satisfied with the way the book ended and how Travis came to terms with everything.