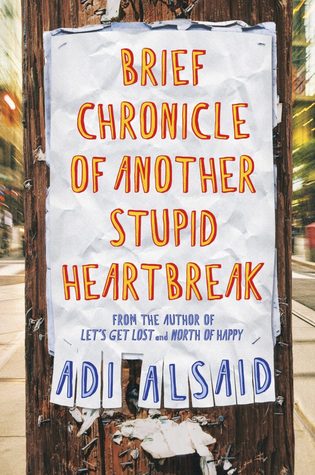 Book:
A Brief Chronicle of Another Stupid Heartbreak
Author:
Adi Alsaid
Release Date:
April 30, 2019
My Rating:
★★★
Synopsis:
The summer after senior year is not going as eighteen-year-old Lu Charles expected: after her longtime boyfriend unexpectedly breaks up with her, Lu can't write a single word, despite the fact that her college scholarship is tied to her columnist job at hip online magazine Misnomer. Then, she meets Cal.
Cal's ever-practical girlfriend Iris is looking ahead to her first year of college, and her plans do not include a long-distance boyfriend. When Lu learns that Cal and Iris have planned to end their relationship at the end of the summer, she becomes fascinated and decides to chronicle the last months the couple will spend together.
The closer she gets to the couple, the more she likes them, and the more she wants to write about them. The summer unfurls, and Lu discovers what it really means to be in love. On the page, or off it. The book is touching exploration of love and how it shapes us both during a relationship and after it has ended.
Disclaimer: I was provided an advanced copy in exchange for an honest review. Thank you Harlequin TEEN.
As some of you know, me and young adult contemporaries, especially those that surround romance, have a complicated and strained relationship. They used to be my shit in middle school and high school, but as I've gotten older and progressed through college, and now that I am done with college, I've found myself enjoying them less. They just don't appeal to me like they used to. I don't know if that's because I've matured and my tastes have changed or if I've found them to be more annoying and just reincarnations of the same tale twisted constantly. Probably both. Despite that, I still make the effort to read them every once in awhile. This author has written other YA contemporaries that have done fairly ok in the past, so when presented with the opportunity to read this book, I decided why now.
All that being said, I thought the book was ok. The romance didn't really go the way I thought it was going and it all just felt really underwhelming. The way the main character views this couple and attaches herself to them is really strange and makes for a less than stellar plot. I think the idea behind the plot could be interesting, but there comes a point where there needs to be a shift away from the couple and more towards the main character and her romance. I understand the underlying messages that were trying to be portrayed, but they fell flat to me.
So if you're looking for something cute to read, uhmmm... this may or may not be for you. Honestly there are better YA contemporaries that you could spend your time on.