Welppppp it's been quite some time since I've written on this blog. Can't say I'm surprised. Since moving to Chicago, I haven't done a ton of reading, and honestly, that's not such a bad thing. I've been able to hang out with my best friend whom I live with and haven't been in the same city with in four years. We've done a lot of catching up, and with work on my slab too, reading just hasn't been a top priority.
I've picked up and DNFed several books in the past few months. Not sure why, but I've been very critical and picky with my recent reading choices. If it doesn't interest me or is a seriously annoying book, then I ain't got time for it. That being said, this is one of a few books that I managed to read until the end.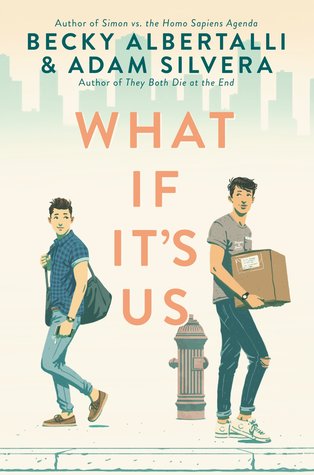 Book: What If It's Us
Authors: Becky Albertalli and Adam Silvera
My Rating:
Synopsis: Arthur is only in New York for the summer, but if Broadway has taught him anything, it's that the universe can deliver a showstopping romance when you least expect it.
Ben thinks the universe needs to mind its business. If the universe had his back, he wouldn't be on his way to the post office carrying a box of his ex-boyfriend's things.
But when Arthur and Ben meet-cute at the post office, what exactly does the universe have in store for them?
Maybe nothing. After all, they get separated.
Maybe everything. After all, they get reunited.
But what if they can't quite nail a first date . . . or a second first date . . . or a third?
What if Arthur tries too hard to make it work . . . and Ben doesn't try hard enough?
What if life really isn't like a Broadway play?
But what if it is?
I put off reading this book for quite some time because me and YA contemporary have a complicated relationship as some of you know by now. I loved these authors' other works, so I decided it was high time to bite the bullet and read it. All that said, I thought the book was alright. It was cute, but in my opinion quite problematic. I thought that Arthur and and Ben's relationship was unhealthy and quite one-sided. Maybe that was what the authors were going for, but it just didn't sit well with me. I also wasn't 100% on board with the ending. With how much work they were putting in to maintain their communication with each other, didn't understand why the ending was the way it was. Overall it was a quick, cute(ish) read, but after all the hype I heard, I expected more.