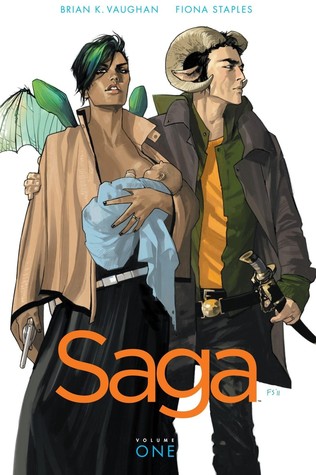 Book:
Saga: Volumes 1-3
Author:
Brian K. Vaughan
Artist:
Fiona Staples
My Writing:
★★★★★
Synopsis:
When two soldiers from opposite sides of a never-ending galactic war fall in love, they risk everything to bring a fragile new life into a dangerous old universe.
From bestselling writer Brian K. Vaughan, Saga is the sweeping tale of one young family fighting to find their place in the worlds. Fantasy and science fiction are wed like never before in this sexy, subversive drama for adults.
I've seen this book everywhere for quite awhile, but I've been putting off reading it. Well, not even that, I just hadn't made up my mind on whether or not I wanted to read them. I've only dabbled in graphic novels, so I wasn't sure if this would really be my style. Also, booktube was hyping this book up so much, and if you know me, I am not a fan of hype.
I honestly don't have much to say other than I really enjoyed this. It is unlike anything I have ever encountered in my entire life. This sci-fi graphic novel is incredibly unique and is an interesting tale of love, loyalty, and epic spaceness. This was a really quick read and I loved every second of it. I can't wait to read the rest of the series.