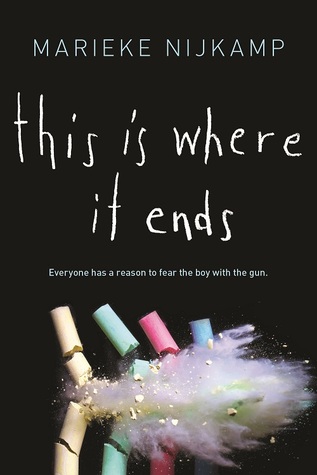 Book:
This is Where it Ends
Author:
Marieke Nijkamp
Publisher:
Sourcebooks Fire
My Rating:
★★★
Synopsis:
10:00 a.m.
The principal of Opportunity, Alabama's high school finishes her speech, welcoming the entire student body to a new semester and encouraging them to excel and achieve.
10:02 a.m.
The students get up to leave the auditorium for their next class.
10:03
The auditorium doors won't open.
10:05
Someone starts shooting.
Told over the span of 54 harrowing minutes from four different perspectives, terror reigns as one student's calculated revenge turns into the ultimate game of survival.
There was so much buzz surrounding this book that when I had the chance to review it through
Netgalley
I jumped on it. School shootings is a topic that I hear a lot about here in the United States, especially last year when I was still in high school. I've done so many lockdown drills, and when I was in grade school I actually experienced two gun situations in which a parent came into the building with a shotgun and another time a person in a truck and gone was driving around on the playground. My senior year a boy threatened to bring a gun to school and kill everyone but was stopped by the police. Thankfully no one was hurt. I also live near an area where there have been school shootings among students in nearby schools, and they are actually quite common. So with my own personal experience and knowledge, I had a lot of expectations coming into this book.
Unfortunately, those expectations weren't met. I felt like although this book tried to be realistic, it was inaccurate. I don't think the author really knows how American high school students react in situations like this. Self-sacrifice and love strong enough to do stupid stuff in this scenario aren't really prevalent. The mentality of the students is quite self-centered and focused solely on survival. I cannot express how many times I have heard my classmates tell each other they would use one another as body shields or cover themselves in a dead classmate's blood and pretend to be dead. As for the teachers, there is no way in hell they would behave like they did in the book. People think teachers are admirable and will try to protect students at all costs, but they won't. Throughout my schooling my teachers have always told us that if a gunman were to enter the school, they are either hiding their selves and leaving us to the mercy of the gunman, or trying to leave the students and go to their cars to go home. In fact, it was policy at the school system I went to that if there is a lockdown or gunman, the teachers are to close all the doors and lock them, leaving whoever is in the hallway to hide or defend themselves.
I admire what this book tried to do, I just felt like it wasn't done right and well enough. Gun control and school shootings really are a huge problem in the United States, and it needs to be addressed and acted upon.
Another problem I have with this book is the multiple character point of views. It was a little hard to follow along because I couldn't tell who was who at first. Also to be honest, I didn't feel like there was anything special about the writing or the story itself.
Overall I'm glad this book exists, I just felt like it could have been a lot better and more accurate.