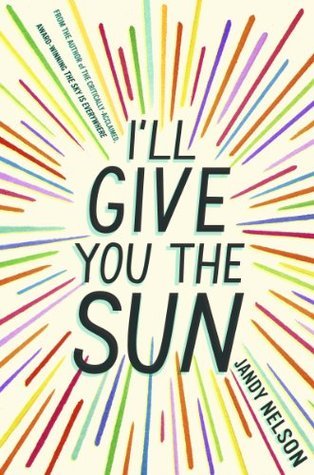 Book:
I'll Give You the Sun
Author:
Jandy Nelson
Format:
Hardcover
Page Count:
371
Publisher:
Dial Books
My Rating:
★★★★1/2
Synopsis:
Jude and her twin brother, Noah, are incredibly close. At thirteen, isolated Noah draws constantly and is falling in love with the charismatic boy next door, while daredevil Jude cliff-dives and wears red-red lipstick and does the talking for both of them. But three years later, Jude and Noah are barely speaking. Something has happened to wreck the twins in different and dramatic ways . . . until Jude meets a cocky, broken, beautiful boy, as well as someone else—an even more unpredictable new force in her life. The early years are Noah's story to tell. The later years are Jude's. What the twins don't realize is that they each have only half the story, and if they could just find their way back to one another, they'd have a chance to remake their world.
I read this book for the Four Corners of the Bookshelf book of the month so I'm not going to talk too much about it because you can hear my thoughts in the video. Overall I really enjoyed it. In the beginning I was not a fan at all. I didn't really like the plot, I hated each of the twins because there was aspects about them that I just didn't like, but then I really started enjoying it, and I realized why I had my issues with it. I have a twin brother, thus me and my twin brother are kinda like Jude and Noah in the book. We are not close at all, though we used to be. Matter of fact I haven't talk to my brother at all since we both left for college. Reading this book was kinda of like reading about my life because there were aspects and events that literally reflected mine. I could identify so much with this book because I saw parts of myself and parts of my brother in Jude and Noah. I think being a twin, there is so much pressure to be better than the other, to be almost identical, and to just fit everyone's ideas of what twins are like. There were so many emotional situations in the book that I really felt for. Now while me and my twin aren't as petty as the twins in the book, we certainly have our issues.
I also believe that a lot of the situations in this book, actually the entire main problem, could have been avoided if everyone had just told the truth. Honesty is so important, and in the end being honest is the easiest way to go about your life. Everything just works out better if people tell the truth and communicate how they really feel.
One thing that I loved so much about this book was how everything from beginning to end, from Noah's POV to Jude's POV was connected. I thought Jandy Nelson did a brilliant job interweaving everything together.