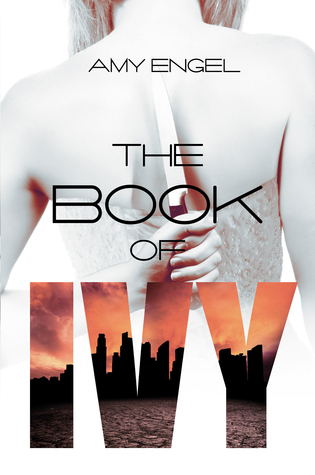 Book:
The Book of Ivy
Author:
Amy Engel
Format:
Paperback
Page Count:
282
Publisher:
Entangled Teen
My Rating:
★★★★
Synopsis:
After a brutal nuclear war, the United States was left decimated. A small group of survivors eventually banded together, but only after more conflict over which family would govern the new nation. The Westfalls lost. Fifty years later, peace and control are maintained by marrying the daughters of the losing side to the sons of the winning group in a yearly ritual.
This year, it is my turn.
My name is Ivy Westfall, and my mission is simple: to kill the president's son—my soon-to-be husband—and restore the Westfall family to power.
But Bishop Lattimer is either a very skilled actor or he's not the cruel, heartless boy my family warned me to expect. He might even be the one person in this world who truly understands me. But there is no escape from my fate. I am the only one who can restore the Westfall legacy.
Because Bishop must die. And I must be the one to kill him…
This was a really enjoyable book for me. I've been reading to read this book for forever because the synopsis was so gripping and I love dystopian novels. The dystopian society in this world is interesting. A nuclear war has left the United States desolate, save for maybe this one city, which makes me wonder what happened to the rest of the world, which is one thing I hope to learn more about in the next book. I like this setting because it is a very realistic and possible future due to the nuclear resources in the world. Some dystopian novels seem unrealistic with powers and other strange things but this one seems like a world that we could possibly live in. That be said, I like it, but I was slightly disappointed. I thought there would be a little more character development on Ivy's behalf and more of a struggle for whether or not she would kill Bishop. I knew she wasn't going to kill him going into this book, but still I felt like their should have been more of a struggle. My favorite character from the book was definitely Bishop. Despite what he comes across as, he is definitely an open book. He is kind, caring, compassionate, thoughtful, and did I mention hot? The plot was intriguing but nothing particularly extraordinary. Bishop and Ivy come to know each other better and fall in love while Ivy comes to dislike her own family more and more. Her father and sister are absolutely terrible people with good intentions, however they go about trying to execute in a poor manner. I feel like that encompasses the idea of politics in general. There are people who promise to change the world, but when it comes down to business their own selfish woes get in the way of them properly taking care of society.
One aspect of the book I really want to make note of is the idea of feminism. In this book, feminism is pretty much dying in this world. The women have no choice who they marry and almost no say in everything else. Ivy doesn't agree with that ideology and she makes it known constantly which I really appreciate. Amy Engel also pointed out that men can indeed be feminists. Bishop allows Ivy to do what she wants and to allow the relationship to progress at a pace she is comfortable with which is so important. He doesn't allow their neighbor to treat his wife like trash because he realizes that women are people too, not property.
FAVORITE QUOTE:
"Peace only lasts when the unhappy side has something left to lose."
This book has an interesting concept and I can't wait to see where it goes. I want the story to progress and deal with more than a possible romance. I want to see how the society can be changed and how powers will change. I want their to be a world outside of this microcosm that will eventually influence change.