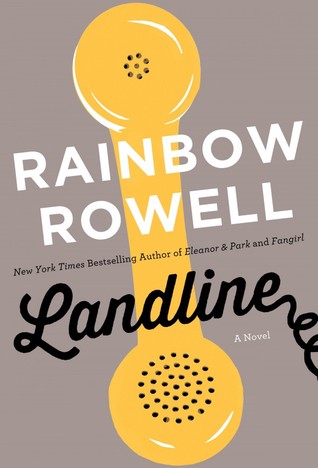 Title
: Landline
Author
: Rainbow Rowell
Format
: E-book
Page Count
: 319
Publisher
: St. Martin's Press (July 8, 2014)
My Rating:
★★
Synopsis
:
From New York Times bestselling author of Eleanor & Park and Fangirl, Rainbow Rowell, comes a hilarious, heart-wrenching take on love, marriage, and magic phones.
Georgie McCool knows her marriage is in trouble. That it's been in trouble for a long time. She still loves her husband, Neal, and Neal still loves her, deeply—but that almost seems beside the point now.
Maybe that was always beside the point.
Two days before they're supposed to visit Neal's family in Omaha for Christmas, Georgie tells Neal that she can't go. She's a TV writer, and something's come up on her show; she has to stay in Los Angeles. She knows that Neal will be upset with her—Neal is always a little upset with Georgie—but she doesn't expect to him to pack up the kids and go without her.
When her husband and the kids leave for the airport, Georgie wonders if she's finally done it. If she's ruined everything.
That night, Georgie discovers a way to communicate with Neal in the past. It's not time travel, not exactly, but she feels like she's been given an opportunity to fix her marriage before it starts. . . .
Is that what she's supposed to do?
Or would Georgie and Neal be better off if their marriage never happened?
Before I say anything about this book, I want to inform you all that I love Rainbow Rowell's writing. I read "Fangirl"
and "Eleanor and Park" and absolutely loved them with all my heart. That being said...
I was not a fan of this book. Like, at all. I don't know if it was the topic, the writing style, the whole time travel through phone thing or what, but I just couldn't get into it. I got about forty percent into the book before skipping to the third to last chapter from the ending.
The book wasn't interesting to me and I found myself lost due to the writing being hard to follow along.
I really wanted to like this book because I have loved all of Rainbow's other books and I had heard so many great things about it. I guess this book just wasn't my cup of tea which is really difficult to comprehend because I usually like everything, especially contemporary.