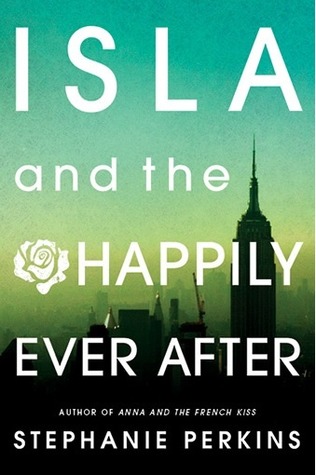 Series
: Anna and the French Kiss (Book 3)
Author
: Stephanie Perkins
Format
: E-book
Page Count
: 352
Publisher
: Dutton Children's (August 14, 2014)
My Rating:
★★★★★
Synopsis
:
Love ignites in the City That Never Sleeps, but can it last?
Hopeless romantic Isla has had a crush on introspective cartoonist Josh since their first year at the School of America in Paris. And after a chance encounter in Manhattan over the summer, romance might be closer than Isla imagined. But as they begin their senior year back in France, Isla and Josh are forced to confront the challenges every young couple must face, including family drama, uncertainty about their college futures, and the very real possibility of being apart.
Featuring cameos from fan-favorites Anna, Étienne, Lola, and Cricket, this sweet and sexy story of true love—set against the stunning backdrops of New York City, Paris, and Barcelona—is a swoonworthy conclusion to Stephanie Perkins's beloved series.
This book. This book was... absolutely fantastic. The third book in the standalone series, "Anna and the French Kiss", "Isla and the Happily Ever After" was such a satisfying book. Matter of fact, I think I'll go ahead and claim it as my favorite book of the series.
Out of Anna, Lola, and Isla, I really felt a more personal connection with Isla. I've been where she was at, hopelessly crushing on a boy. Unlike me though, Isla managed to snag the guy, Josh, though it was a bumpy road for the both of them.
The relationship between Isla and Josh was cute, though not flawless. Isla saw herself as not deserving of Josh which causes problems, though she isn't the only one to cause problems. The first draft of Josh's graphic memoir has some unflattering pictures of Rashmi and a lack of pictures of Isla. Isla becomes extremely disgruntled, which is totally understandable because the way Josh depicted Rashmi made her seem like a goddess in comparison to Isla. They manage to work out their snag though and become a great couple.
Now with this series, I usually don't have any cons, but with Isla I do have one, though it is nothing major. In this book, there are a few sex scenes and countless making out sessions. While this is typically not a problem with YA contemporaries, I felt like they weren't necessary and out of place, making Isla and Josh's relationship seem more physical than emotional.
Overall this book was splendid. I'm sad the series is over, but I'm sure Stephanie Perkins will continue to give us great work.