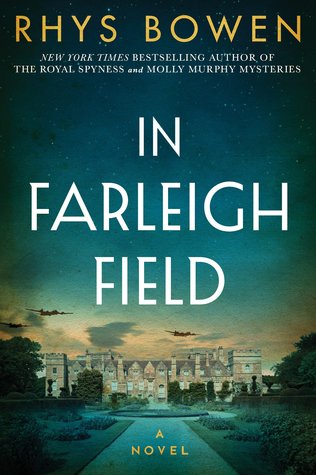 Book:
In Farleigh Field
Author:
Rhys Bowen
My Rating:
★★★★
Synopsis:
World War II comes to Farleigh Place, the ancestral home of Lord Westerham and his five daughters, when a soldier with a failed parachute falls to his death on the estate. After his uniform and possessions raise suspicions, MI5 operative and family friend Ben Cresswell is covertly tasked with determining if the man is a German spy. The assignment also offers Ben the chance to be near Lord Westerham's middle daughter, Pamela, whom he furtively loves. But Pamela has her own secret: she has taken a job at Bletchley Park, the British code-breaking facility.
As Ben follows a trail of spies and traitors, which may include another member of Pamela's family, he discovers that some within the realm have an appalling, history-altering agenda. Can he, with Pamela's help, stop them before England falls?
Inspired by the events and people of World War II, writer Rhys Bowen crafts a sweeping and riveting saga of class, family, love, and betrayal.
So usually I don't read historical fiction because me and it just don't click which is strange considering I absolutely love history. Like I love reading history books, watching documentaries and stuff like the History Channel, but when it comes to historical fiction, whether in book, movie, or any other format it usually doesn't click with me. This time however, something about the synopsis clicked with me and I decided to give it a go, and I'm glad I did because I actually quite enjoyed it. The writing, plot, and pacing were all nice and kept me wanting to read more. The entire time I kept trying to guess what was going to happen and who did what, but I was wrong until almost the very end which pleasantly surprised me because I am almost always a great guesser when it comes to these things. That just made me appreciate the book even more. I loved the writing because it made me feel like I was in Englad during World War II, and for once I actually enjoyed that kind of atmosphere. What also surprised me was that the book was in multiple POVs, and usually I hate that but this time I felt that it truly did add to the book.
Overall, this was a pleasant surprise and a well-needed laid back read. If you enjoy World War II books, mystery/suspense, spy shit, or historical fiction, I would recommend giving this a go.
*Thank you Netgalley for providing a free copy in exchange for an honest review.*